Selection according to styles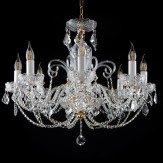 Chandeliers produced according to the original designs of old glass masters. Not only the original design, but also the original method of production with a large proportion of manual work sets these chandeliers apart from the ordinary production of lighting fixtures.
Eshop ►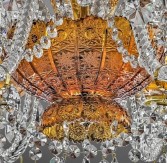 Luxurious chandeliers decorated with different types of hand cut, e.g. Bohemian lace PK500 style grinding
Eshop ►
---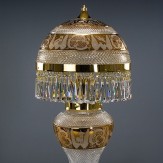 Lamps decorated with noble metals such as gold or platinum. All parts of these fixtures are made of 24% lead crystal glass, decorated by hand grinding or engraving. Shiny crystal glass is easier to shape and cut than regular soda glass, allowing for intricate and detailed designs.
Eshop ►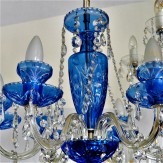 Colored chandeliers made of glass parts colored by metal oxides or layered cased glass. The Cased glass is glass made up of two or more glass layers of different colors. The inner layer of this glass is mostly clear and colorless. Individual layers of glass are joined by artistic hand grinding, which creates a unique sparkling effect of cut glass.
Eshop ►
---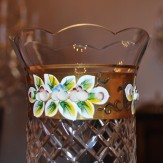 Chandeliers and lamps decorated with glass flowers on a gold or platinum base, so-called high enamel. High enamel is basically molten finely ground glass with metal oxides.
Eshop ►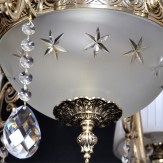 Chandeliers and lamps made of frosted sandblasted glass decorated with deep artistic cut. This type of stylish lamps provide pleasant diffused light.
Eshop ►
---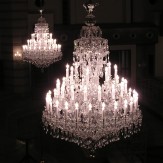 Representative chandeliers designed on the occasion of the coronation of Empress Maria Theresa by glass master Josef Palme *1724. Chandeliers of Maria Theresa have their characteristic shape of lyre. Steel arms are manually shaped and cultivated with golden metal. The chandelier's arms are on both sides fitted with crystal ledges, which are manually bended above a burner.
Eshop ►
Original Murano chandeliers and lamps are originally medieval Italian lamps made of hand-blown glass on the island of Murano near Venice. However, at the time of the creation of these lamps, there was also a Czech Glass School imitating these master craftsman lamps.
Eshop ►
---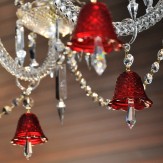 Baccarat-style chandeliers are luxurious fixtures made of hand-blown, extra-pure crystal glass. The glass parts of these chandeliers are decorated with precise hand cut, most often in the shape of a diamond (baccarat). The chandeliers are also hung with the highest quality crystal trimmings such as typical pointed prisms.
Eshop ►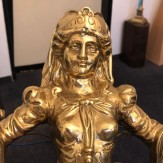 Victorian style is characterized by richness and details such as curves and folds. Metal Victorian chandeliers are often very ornate, with an intricate metal structure densely hung with crystal trimmings. A common material for their manufacture is golden cast brass, which is either polished or gold-plated. The glass parts of the chandelier are usually made of solid glass decorated by hand grinding.
Eshop ►
---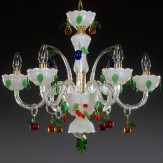 Chandeliers in a rustic style are lamps that look ancient and yet are modern products made of quality materials. They are timeless and elegant and are suitable not only for a cottage or country estate, but also for classic interiors. Chandeliers in the rustic style are made of various materials, most often glass and metal are used, but there are also textiles, rope, wood, etc.
Eshop ►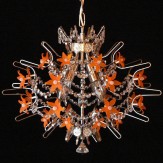 Shabby Chic chandeliers have a vintage and distressed appearance with delicate and romantic elements like crystals and floral motifs. They're often finished in pastel colors and add a cozy and romantic touch to any space.
Eshop ►
---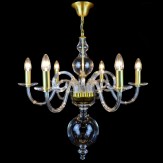 Contemporary chandeliers have a modern design with clean lines and geometric shapes. They come in various materials and finishes, and offer a bold and sophisticated lighting option for a touch of modern elegance in any space.
Eshop ►